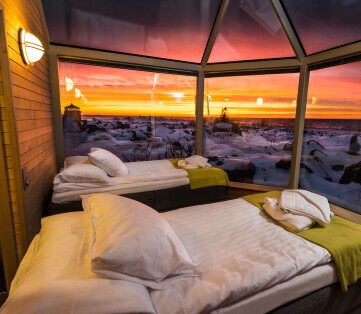 Glasshouse accommodation – Feel the untamed nature
Spend the night in a glasshouse – Be one with nature
Experience the constant changes in the sea view; feel the wind, the heat, and the cold on your skin. Step into the hot sauna, dive into the sea, go ice-swimming. Take a walk on the ice, go canoeing in the nature shaped by the Ice Age. Let yourself be enchanted by the darkness, the silence, the starry sky, the northern lights. By the never-ending summer nights, forest trails and bilberries.
Book your own glasshouse. We have included pictures of the view from each glasshouse – when you book your glasshouse, you also book the scenery.
Breakfast and dinner are included. It is also possible to rent outdoor equipment from Kalle's Inn Resort. The possibility to use the sauna and hot tub is available for a separate fee.