For glasshouse guests and small groups
Dinner menu is available at 18:30 & 20:00.
The breakfast is served from 8:00 am to 10:30 am.
Please let us know which time you would like to have dinner and breakfast when you check-in.
We take into account all special diets and other possible wishes. Please inform us about these during the booking phase.
Below you can find an example menu of our two-course dinner. Our menu varies according to the season and the availability of ingredients. We reserve the right to make changes.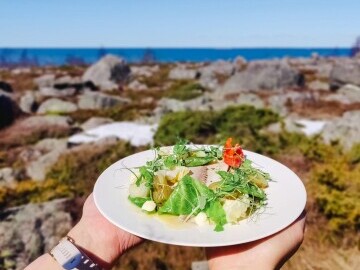 Menu for glasshouse guests and small groups
To start with
Fresh Scandinavian rye and malt bread & little appetizers
Main course
Steamed local fish from our fisherman,
potatoes stewed with butter,
stew of mushrooms and seasonal vegetables
& horseradish
As a meat option:
Beef cooked with herbs,
mashed potatoes, seasonal vegetables
& gravy
As a vegetarian option:
Crispy fried mushrooms and potatoes,
stew of seasonal vegetables, pickled onions
& mayonnaise
Dessert
Whipped yogurt, various delicious treats made from seasonal berries
& fresh herbs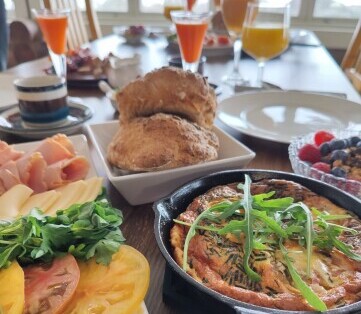 Guest's breakfast
What better way to start the day than with a peaceful breakfast moment while admiring the sea view. In our breakfast room, you can enjoy a plentiful breakfast served at your table.
Our delicious breakfast includes both savory and sweet options. We offer freshly baked bread rolls among other treats. So, sit down, free yourself from the hustle and bustle of everyday life, and let your senses be filled with stunning aromas and flavors.